Quality Intimate Theatre
With our unique performance space, you'll feel like you're part of the show!
An Experience You Won't Soon Forget...
We invite you to join us for an afternoon or evening of EPIC proportions!  Whether it's the quality entertainment, great food, warm atmosphere, or table service from the actors we guarantee you'll have an experience to remember.
Best Entertainment Value!
Our prices top out at $42 for dinner & show! On average that's $20 less than our competitors!
Not Hungry? Join us for just the show!
We're one of the only dinner theatres in the area that offers a "show only" option. Join us for just the show and you can still enjoy appetizers, drinks, and desserts! Best of all, coming for just the show will have no effect on your seating arrangements as long as you purchase tickets ahead of time.
Family Owned & Operated
Come on down and you'll be seated, waited on, cooked for, and entertained by 2 generations of family!
A Staple of the Community
The Jesters has been producing shows in the Longmont area since 1987 and received the Longmont Chamber of Commerce award for "Small Business of the Year" in 2005. They've been at their current location since 1999.


Scrooge – Bah Humbug!
December 2nd-28th
A musical version of the the holiday classic, "A Christmas Carol". The Jesters has been doing this production every Christmas for over 20 years! Don't miss this classic.

The Worst Christmas Pageant in Town
3:00pm Saturdays, December 3, 10, 17, 31 and 10:30 Monday and Tuesday, December 26 & 27.
Caitlin wakes from a restful sleep only to realize that she's late for the final rehearsal for this year's Christmas Pageant. When she arrives, she finds a stage-full of kids, but no director, no pianist, no minister. Indeed, the adults seem to have disappeared! It's up to her and the rest of the kids to put the show together, but can they manage it when sleepovers, fashion, and picking locks take prority to rehearsing? And the worst winter storm in decades is bearing down on them? This could indeed be The Worst Christmas Pageant In Town!!

Mister Tim & The Denver Dolls "A Very Vintage Holiday!"
Monday, December 12, Doors open at 6:30pm, show at 7:30
Come enjoy your holiday favorites!  Full bar and dinner menu available!  $10 per person, doesn't include food or beverage.

Afternoon with Santa & Friends
1:00pm, December 21st
Tickets required, advance reservations recommended.
Santa will be on stage telling stories of life at the North Pole including the true story of Rudolph and how he met and married Mrs. Claus.
Elf Mather Hot Wheels will be with Santa and Mrs. Claus may put in an appearance.
Afterwards families will be invited to come on stage and talk with Santa and pose for any pictures they may wish to take.
Adults – $15, Children & Seniors – $10
No more than 5 children for each adult or senior
100% OF TICKET SALES WILL BE DONATED TO HELP THE STREET ORPHANS OF KENYA.
Refreshments will be available for purchase from the concession stand.

October 7th-November 27th & December 30th-January 29th
A small group of people help Jesus Christ tell different parables by using a wide variety of games, storytelling techniques, and hefty dose of comic timing. An eclectic blend of songs ranging in style from pop to vaudeville is employed as the story of Jesus's life dances across the stage. Dissolving hauntingly into the Last Supper and the Crucifixion, Jesus's messages of kindness, tolerance, and love come vibrantly to life.
Front DeRanged Improv Comedy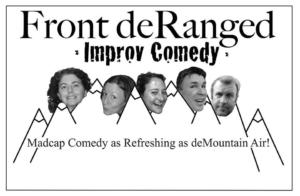 Roughly a decade ago, the OxyMorons improv troupe created a presence in Asheville, NC with standing-room-only comedy nights at the Area 45 Theatre. Three of OxyMorons' founding members now call Colorado home, and they've partnered with local talent to make funny Front deRanged style. Watch as players use your suggestions to create scenes, situations, and clever one-liners in an evening of unscripted, unbelievable – and dare we say unforgiving – comedy. It's a serious dose of funny that'll make you laugh until you cry (and that's no oxymoron).